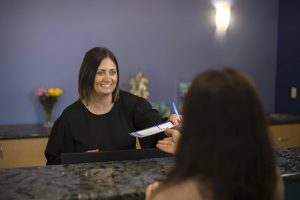 We recommend that a child is seen by a specialist children's dentist by the age of one, or within six months of the first tooth coming through. An easy way of putting it into perspective is "first visit by first birthday".
If your child is older and hasn't been to the dentist, please don't panic. Bring them in as soon as you can!
What happens at the first visit?
During your first appointment, we will:
make you and your child feel at ease
take a detailed history
carry out a comprehensive examination
answer all your questions
give oral hygiene instructions (brush and floss) and dietary advice
provide the parent with preventive strategies
discuss and give out a detailed treatment plan (as required): we do not start treatment at the first appointment unless it is an emergency
at the end of the appointment, we organise a follow-up (generally six months)
How do we examine your child?
This is dependant on the age and co-operation of the child.
For very young children, i.e. infants and toddlers, we carry out a knee to knee examination. The dentist and parent sit facing each other and the child straddles the parent's lap while facing the parent. The parent then lowers the child until they are horizontal and resting their head in the dentist's lap. The parent gently holds the child's hands while the dentist examines with a mirror and toothbrush.
Anxious young children can sit in their parent's lap and the child and parent sit on the dental chair together and go for a ride in the chair. After this, the specialist children's dentist will complete the examination.
How to prepare your child
We are very happy for you to come and have a look at the practice even if you are not seeing the dentist! This can be a pleasant experience for both the parent and the child, reassuring them about where they are coming for the first visit. Some children benefit from visual preparation. You can show your child pictures of our practice on this website.
Your attitude is very important: children can easily perceive the energy and attitude of the parents. Remember, if you are relaxed, then your child is likely to be relaxed.
First visit tips
Children are likely to be relaxed if they are well prepared
Talk to them about the visit to the dentist
Tell them that "the dentist will count your teeth" and "we will tell the dentist how well we brush our teeth every morning and every night"
Choose a special dental story or a favourite toy your child can bring along or a special outfit your child may want to wear to their first visit.